Synergy Legacy Membership
Introducing the Synergy Legacy Membership, providing you with innovative and interactive online training content created just for this. We have opened the door for personal coaching opportunities like never before, created valuable member benefits & designed win/win Synergy program discounts. We are currently creating a directory of special discount offers from participating Synergy graduate-owned businesses.
This time in the world reminds us how much community means, so we are responding to requests to deepen our connection as a collective and dance in the world of possibility and magic only possible when we join together.
Your Legacy Membership gives you a continuous connection with our team, our leaders and the exciting and diverse world of Synergy graduates. We're obsessive about making a difference in the world, touching people's lives and being a partner through life with you.
Synergy is a philosophy, a culture, a sensibility, a playground for amazing human beings to come together. We create conditions for discovery and transformation.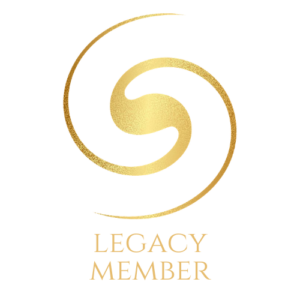 Legacy Membership Benefits
Unlimited access to our online training content at 'The Synergy Academy'
Voucher for 50% off full price registration for one Synergy Basic once per quarter, to use for anyone you choose*
A 25% discount on the following online Synergy Seminar Series offerings: for example, the Basic Refresher, Advanced Course Refresher, Money Mindset, Advanced Money Mindset and other Seminar Series offerings
1:1 coaching with a Master Coach for $75 (regularly $175)
Complimentary rose for your enrollees at any Synergy Basic celebration
Access to discounts & special offers with participating businesses run by Synergy Graduates
* Voucher valid for new registrations only. One voucher awarded for every 3 continuous months of membership. Vouchers expire after 6 months from the date of award. Once redeemed, vouchers awarded are non-transferable to a different person, non-cancellable and cannot be reissued.
Annual Membership Benefits
Receive all Legacy Membership Benefits PLUS
Receive (1) $200 voucher per year, to be used towards the Advanced Course, Leadership Program, Journey of Mastery or Masters Leadership Program for anyone you choose
1 hour of personal conversation/coaching with Peter, Angel or Monica
Special Legacy Welcome Gift
The Synergy Academy
This is a series of interactive, online videos refreshing a number of core distinctions such as:
The Life Wheel | On the Ice | Above The Line / Below The Line | Be / Do / Have | Relationship Audit
This puts "distinctions on demand" at your fingertips that allows you to watch any videos you like, as often as you like.
New content will be added regularly and make your requests for topics.
Legacy Membership Fees
$49/month (with a minimum 3-month commitment)
or
Annual Membership of $499 paid-in-full (a SAVINGS of 2 months off the monthly membership)