Age: 33

Occupation: 

Lawyer

Lives in: New York
Family: Married and a mother to an adorable baby boy
I think I was 16 or 17 years old when I heard about Woodstock for the first time – or rather – understood what it meant in a larger sense. It was more than just a concert or a music festival – it was a movement. I remember finding an old ratty Woodstock headband at my grandmother's house and her casually mentioning that my dad had been there. Cool, I thought. It was nearly a decade later when l learned for the first time that my dad was more than just "there" – he actually PERFORMED. As in – in front of hundreds of thousands of people, in what is widely regarded as a "pivotal moment in music history," on the same stage that musical legends like Carlos Santana, The Grateful Dead, and Jimi Hendrix would later take. Now, in truth, I had never heard of Bert Sommer – the artist for whom my dad played bass that day – but who cares? Just the idea of it all is really, really cool (there is even a YouTube Video floating around out there of the performance!). But that's where the story stopped. I didn't know much more about it, and I couldn't ask my dad about any of this because he died in a car accident when I was six years old. At the time, my brother was only two. Woodstock became something "cool" I associated with my dad.
In June 2012, my brother, some friends of ours, and I went to "Woodstock" (aka the Bethel Woods Performing Art Center) for a Dave Matthews Band Concert. While there, we decided to take a casual stroll over to the famous hilltop and stood looking down on the area that would have been the infamous Woodstock main stage. Even thought I am pretty sure we were trespassing at this point, we walked down the bluff and lingered around in what would have been the stage area, imagining what it must have felt like on that stage in August 1969. It was an emotional moment for sure, but it wasn't until later that I realized the incredible significance that my brother gave to this moment we shared together.
I'm not a "stuff" person. I never have been. Clutter makes me nuts. But after that afternoon in Woodstock with my brother, I realized that he was upset that we didn't have any of our dad's "stuff." He longed for something tangible. Something that he could hold and know that our dad had held too. He longed for this connection so much that unbeknownst to me, he picked a rock up off of the grass field we stood on that day and that our dad had stood on 43 years earlier. When I learned he did this my heart broke for him. It was unacceptable to me that he felt that way. So I concocted a brilliant, yet terrifying idea. I was going to track down my father's Woodstock bass and give it to my brother. This brilliant idea came to me four months before I began my Synergy journey. At first it was just an idea – an idea that I thought about A LOT, but I really had no idea where to even begin.
The first thing I had to do was find the bass, which I quickly learned had been sold in the late 80's to a friend of my dad's after he had passed. I tracked down that friend, who had sold it to someone else, and so on. When I finally got in touch with the owner, my first conversation with him went something like this:
Me: Hi, so you don't know me, but you have my dad's bass, and I want you to sell it back to me.
Him: No.
When he said no, I felt like someone hit me with an 18-wheeler. Just like that, with one simple word, I was defeated. To say I was disappointed would be an epic understatement. I immediately wanted to write this guy off as a huge jerk and blame him for the fact that my brother wouldn't get to hold my dad's bass. Making him wrong for saying no to me was very easy. Oh well, at least I tried, I told myself.
Not long thereafter, I was introduced to Synergy and enrolled in the Basic course – a workshop that was going to give me tools to overcome obstacles in my life and make me "unstoppable." Admittedly, going into the Basic, getting my dad's bass back was not on the forefront of my mind, but it didn't take long for the fantasy to resurface. After the Basic, I realized how dramatically things had started shifting in my life. Everything was occurring to me in a different way. I was coming to grips with the fact that the only limits I had were self-imposed. For the first time, in a very, very long time, I was living as a different version of myself and I was willing, probably for the first time in my entire life, to take one hundred percent responsibility for all my successes and failures. It became clear to me that a little bravery and vulnerability would go a long, long way. I reconnected to the vision of being able to give my brother the bass that our dad played over 40 years ago, and NOTHING was going to stop me. I went back to the drawing board and reached out to the owner again. Only this time I was vulnerable, authentic, open, and committed to him understanding what it meant to me to be able to have that bass back and to be able to give it to my brother. I was determined to enroll him in my vision – enroll him in the idea that with his help we would be giving my brother such a tremendous gift. Something truly priceless.
In my renewed effort, I realized that enrolling the owner in my vision would require both vulnerability and also listening. I asked him questions and I learned a lot about what the bass meant to him. It was given to him as a gift from his uncle. He learned how to play bass on it. He had owned it for nearly 20 years. He travelled the world with it. It was the single most valuable possession that he had. I realized that this guy wasn't a jerk at all. The bass had as much significance in his life as it did in this moment for me, as I knew it would for my brother, and as I imagine it had for my dad. I shared that with him. I told him the story of visiting Woodstock and the rock that my brother picked up from the field. I shared with him like I had known him my whole life. I remember so vividly telling him that I was committed to making this a win/win. For a few weeks I didn't hear from him. The funny thing was, I didn't feel defeated like I previously did. My vision was crystal clear. A few weeks later I got the news I had waited nearly a year to hear. He said yes.
Being unstoppable is a choice to be made each and every day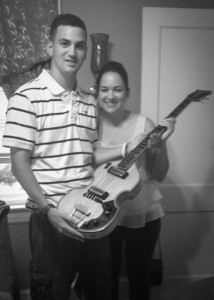 And so, on June 1, 2013, I traded my brother the rock from the field at Woodstock for a Vintage Hofner Bass circa 1968. For as long as I live, I will never forget the moment when my brother held that bass for the first time. It was a perfect moment if ever there is such a thing.
The moral of this (very long) story is that the work at Synergy has made me realize that being unstoppable is a choice to be made each and every day. It would have been very easy for me to give up on my vision when I was told "No", but I'm committed to playing a much, much bigger game in this life. Thanks to Synergy, I now have the tools to make that a reality.