"When I came into recovery, AA helped me to believe that I deserved a life beyond my wildest dreams. Synergy showed me how to achieve it."
My AA sponsor insisted that I enroll in the Synergy Workshops when I was six months sober. I had a beautiful, supportive family, but, as is so often the case with those who struggle with addiction, I saw what the disease wanted me to see and little else. I had become a self-deprecating, self-absorbed victim with no self-esteem. Are we seeing a pattern here? Self, self, self…
All my life, I had been so concerned with what others thought of me — how I looked and sounded, who approved of me and who didn't, what I was or wasn't doing with my life, etc. The Synergy Workshops showed me that I had spent so much time wrapped up in my own self-obsession that the world I had created was very small, very safe, and very inauthentic.
"when i came into recovery, aa helped me to believe that i deserved a life beyond my wildest dreams. synergy showed me how to achieve it."
This discovery was a rude awakening. Here I was a middle aged, divorced mother-of-two with my eyes opened for the first time. It was time to grow up and choose what I wanted to be. I had always wanted to be a writer. I had some pretty great ideas but no idea how to go about bringing them to life.
Here is, hands down, the most powerful, transformative, life-altering concept that that I received from Synergy. I don't just get to choose WHAT I want to be. I get to choose WHO I want to be. I learned that I get to make that choice everyday. I get to choose to let go of being a victim and choose to BE an empowered woman. I get to make the choice to make a difference in the world.
I went back to my writing with a purpose: "How can I use my voice to be in contribution to the world?" I believe that precious gem of a question is the undercurrent to what makes Synergy so universally powerful. Once we get out of our own way, we can see how much we have to give. We just have to get out there and do it!
When I came into recovery, AA helped me to believe that I deserved a life beyond my wildest dreams. Synergy showed me how to achieve it.
During the Synergy Workshops I declared that I would finish writing a story I had started. I chose to come from a place of wanting to share the message of that story with the world. That message is, "can man's humanity survive when he is taught only to hate?"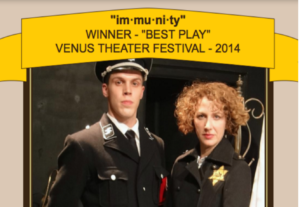 I declared that the story would one day become a movie. Two months later, the story was not only completed and submitted to various festivals, but it got accepted as a stage play and went on to win at that festival.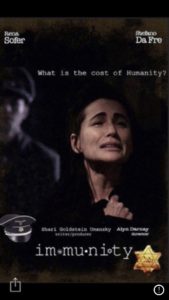 Today that story is a movie, winning festival awards across the country. Its message is on its way to reaching people across the world. In the closing credits of the film it reads, "Special Thanks to Synergy Education, Inc."
My most humble and heartfelt thanks to Synergy, Peter, Angel, and the entire Synergy family, for teaching me how to become the authentic, connected, and powerful woman, fiancé, mother, daughter, friend, sponsor, teacher, and writer that I get to be today.
Click here for more information about the Synergy Dare to Dream – Purposeful Living in Recovery